XR technology opens new possibilities for diagnostics, surgery, dentistry, patient care, and more. XR provides the ability to visualize internal organs, bones, teeth, medical instruments in the form of three-dimensional models and use them to practice surgical and dental procedures, diagnose and study pathologies, and even help with actual surgery.
Benefits
Enhancing your experience through Extended Reality (XR) technologies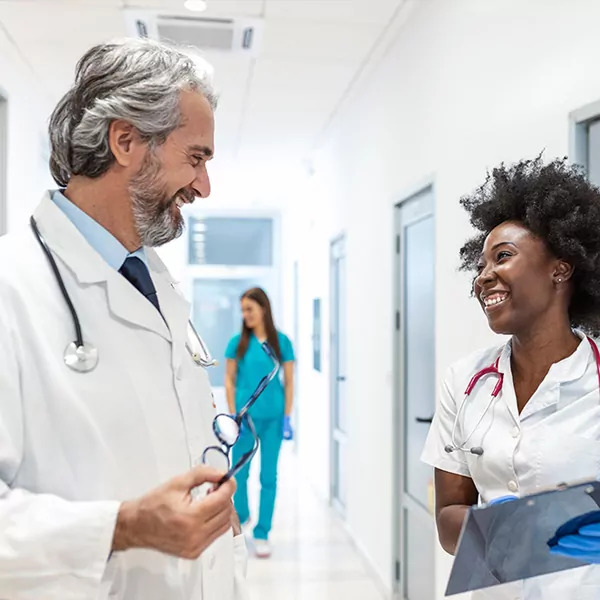 Fewer
Resources
Hands-on experience with real patients is an invaluable way for healthcare trainees and professionals to develop their skills, but it comes with the added risk of putting patients' lives in danger. XR-based simulations allow students to learn from their mistakes safely.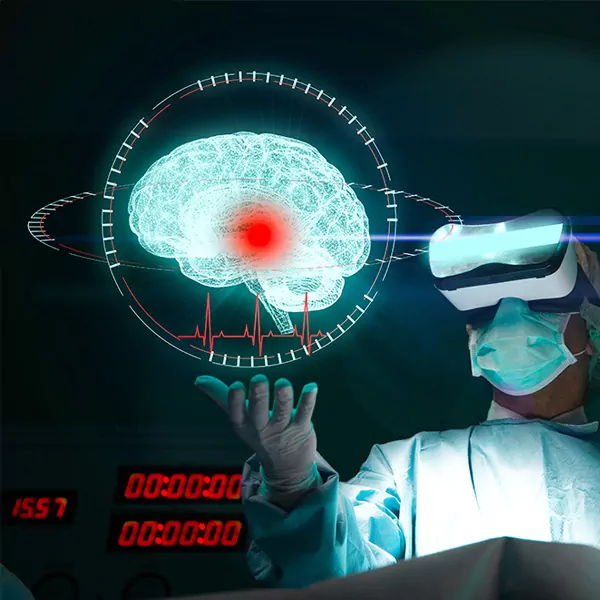 More
Scalable
Institutions do not always have the time, money, or faculty needed to give learners on-demand access to the training they need. The good news is that these obstacles don't apply to XR, so you can cost-effectively facilitate truly flexible learning.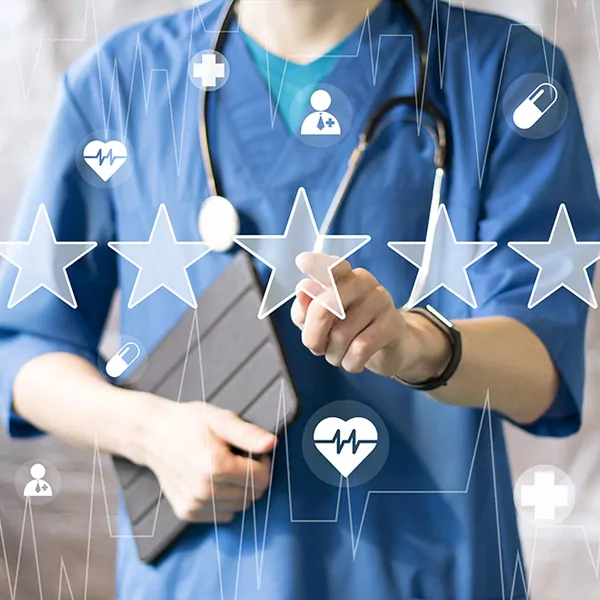 Better
Feedback
Even the best technician will find it impossible to operate a scenario exactly the same way consistently, which makes it challenging to measure cohort performance. Standardized XR platforms give the same experience to each user every time without fail.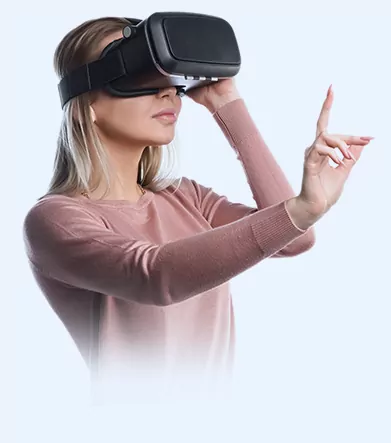 Use Cases
We enhance your experience through augmented, virtual, and mixed reality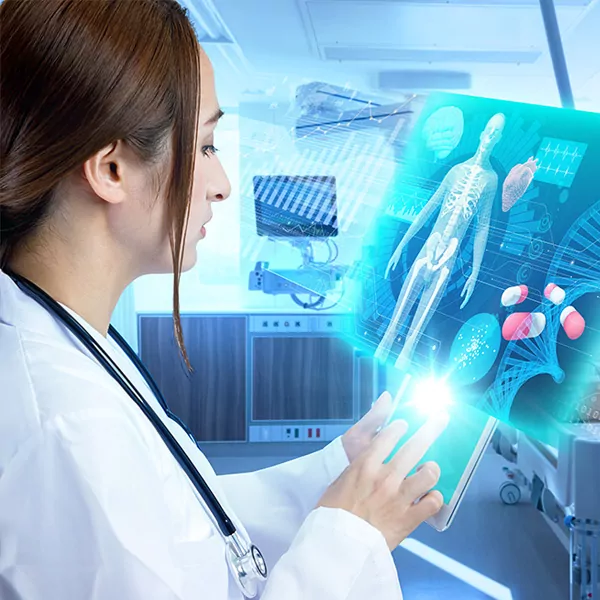 Augmented Reality
AR offers many benefits to healthcare training and patient care. For example, institutions have leveraged AR to improve the success rate of intravenous injection by mapping vein structures onto the surface of a patient's skin.
With Augmented Reality, patients will be able to express their symptoms better. The process makes it easier for doctors to determine their patients' symptoms and accurately diagnose them.
Medical students and new residents can benefit from virtual training through Augmented Reality. A remote mentor can share the student's view and give advice on the procedure or diagnosis from another location at any time.
With Augmented Reality, a doctor can receive remote guidance from an expert no matter where they are located.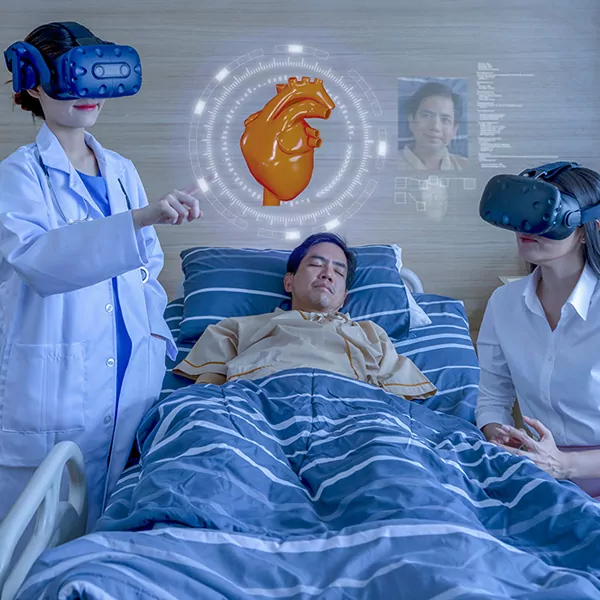 Virtual Reality
Virtual reality has direct applications to patient care, such as gamifying physical therapy sessions to speed up recovery times, and using immersive, controlled scenarios to improve outcomes in mental health patients.
With VR, medical students can experiment with a range of different situations, without putting themselves or others in danger. Students can learn how to interact with medical instruments risk-free.
VR assists with surgical planning, giving professionals a 3D "digital twin" of the body they're going to be working on. This will allow physicians to study medical cases from a range of perspectives and find the best way to operate.
With VR, teams can work together on planning surgeries pertaining to vital organs or explore potential solutions to diseases.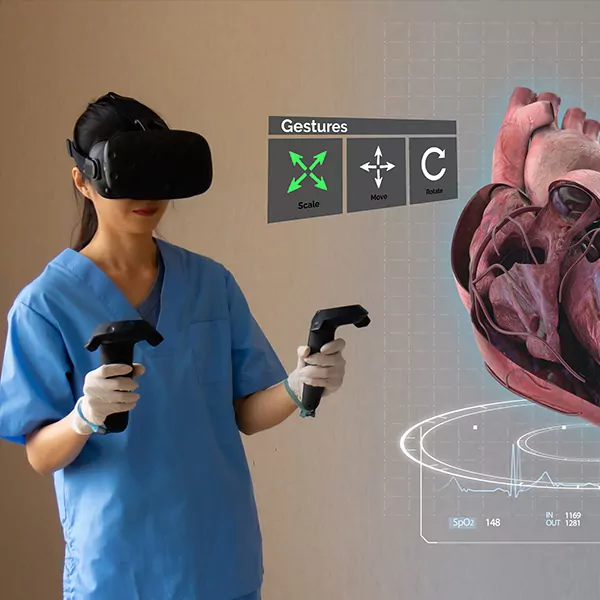 Mixed Reality
Mixed reality is empowering providers, payors, and health science experts to reimagine healthcare by accelerating diagnoses and reducing time-to-care, enabling personalization and improving outcomes.
Use MR to superimpose 3D views of MRI images and CT scans to assist specialists and surgeons before and during surgery—improving precision and reducing the need for additional interventions.
MR empower doctors and clinicians to rapidly share imaging results, better contextualize physician-patient conversations, and drive more informed patient decision-making—improving quality of care and the patient experience.
Leverage MR to enable continuous learning. Doctors, nurses, technicians can train and practice using simulated training.
How it Works
We make it easy to get started and will be there with you every step of the way to ensure a successful outcome
01

Envision
Business Case / Discovery / Brain Storming / Concept Validation
02

Define
Requirements / Prioritize Insights / Define Timelines / Project Costs
03

Prototype
Research & Strategy / Conceptual Design / Wireframe / Storyboard High Fidelity Design
04

Build
3D Modeling / Prototyping App Development Integrations / APIs Testing
05

Test
QA Testing / User Testing / Optimization Documentation & Knowledge Transfer
06

Deploy
Training / Ready for Launch / Support / Sign-off
Our Blogs
Check out our blogs to learn more about enhancing your experience through Extended Reality (XR) technologies